Eye Ov The Storm [EoTs]
Edit
Eye Ov The Storm EoTs
150px
Territory
Europe
Language
English
Leader
Bloo Guardian
Type
PvX
Members
69
Guild Hall
Warriors Isle
Forums
Eotsguild.tk
Time zone
Varies
Guilds Past
Edit
When this guild was first created it was an amazing Kurzick Faction Farming guild. We as members did practically nothing but DTSC and dungeons, but it was still really fun none the less. After a huge mishap we lost a large amount of members in one blow and this effected us greatly. Now down to about 40 members after originally having about 70 we became a Luxon guild in an attempt to rebuild. At first it took a while getting used to being a Luxon guild because we had to get used to things such as the Deep and MQSC.
Present Time
Edit
Nowadays we are doing very great! Our guild now constantly has a member count of 55-60 and many of these members are constantly active. After the recent 600 nerf we have lost a lot of faction but we have found a new means of Faction Farming... Jade Quarry! Jade Quarry is actually very fun because it is a PvP mission so it is always a challenge. Because of our discovery of JQ we are now maintaining a guild faction of about 2.5 million and our alliance is maintaining a faction of about 15 million!
What were all about
Edit
The goal of EoTs is mainly to have fun. To do this we do a lot of PvP, Dungeons, the Deep, UW, and much more. Our alliance hosts events almost every day which is really fun to take part in. We have ventrillo for those of you that are really laid back and would just like to chat. Basically we are just a really active fun loving guild!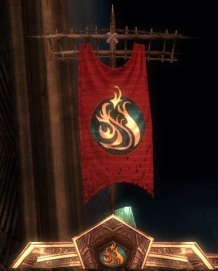 Contact Info
Leader: Bloo Guardian
Officer: Slayer Cattie
Officer: Akifoo Arcana
Officer: Randomness is Epic
Officer: Barak Skull Smasher
Officer: Carloh Blue
Recruitment
Edit
We are active, helpful and are pretty much always doing something as a guild whether it be sitting and chatting in the Guild Hall to doing a full UW run. Also we have a full and active alliance that is very helpful and it hosts events almost every day! So if you would like to join a laid back Luxon guild please just contact one of the officers and/or the leader listed above in-game. Thank you!
Example Leading Guild

Alliance

Leader
Example Leading Guild
Members
Example Guild • Example Other Guild • Example Other Guild • Example Other Guild • Example Other Guild • Example Other Guild • Example Other Guild • Example Other Guild • Example Other Guild
Community content is available under
CC-BY-SA
unless otherwise noted.