Introduction
[
]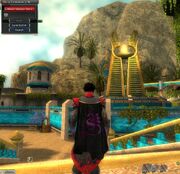 The Asura Ameteurs [AA] is a newly formd guild founded on the 29/06/09, and is soon to be a Kurzick guild. It was a decision made by Vedido The Smiter who left with his mate Sir Jeffry Butnic from Sanitarium Six [VI] guild to form eventually, an alliance to VI. Already with the backing of funds from Vedido The Smiter, the guild has a cape and a guild hall. As soon as one of the guild members gets to the House Zu Heltzer outpost and pledges the allegiance of this guild being Kurick we will be able to form an alliance back with VI. This will not only provide new challenges for everyone involved...but it will also mean finally Sanitarium Six will actually have an active alliance. This is hopefully going to be a very successful, well known and well respected guild in terms of PVE and PVP, and we all look forward to the future.
Members
[
]
Leader: Vedido The Smiter
Officers; Sir Jeffry Butnic
Members: None as of yet
Recruiting
[
]
This guild follows the policy of Sanitarium Six and all it's alliances in that this guild is open to all people of all levels, and gaming exp. It is prefferable that the people who come are active and are supporters of the kurzicks...but there are no req's in terms of levels or PVP experience. The more the better, and over time every member/officer will be rewarded through good deeds, being active and being dedicated to the guild. All people will be respected equally, and hopfully we will have some funds to arrange guild events with prizes and add some services to the guild hall. PM Vedido The Smiter or Sir Jeffry Butnic for an invite or more information.